---
Independence Live 2019 Crowdfunder
Independence Live & IndyLive Radio Crowdfunder
Independence Live & IndyLive Radio new voices for a new Scotland.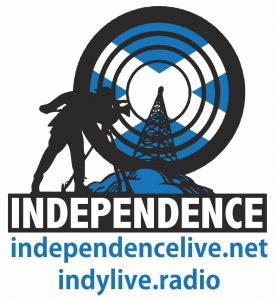 ABOUT
Independence Live has done 1000s of livestreams since 2013. We also provide training for those interested in livestreaming, support Yes Groups and media like CommonSpace by streaming their events.
https://independencelive.net
IndyLive Radio is a new indy platform since 2019 providing indy related news, supporting the Yes movement and playing good music.
https://indylive.radio
WHAT WE NEED
Crowdfunders help support our only fulltime member of Independence Live & IndyLive Radio. Sometimes we crowdfund a little more to purchase various bits and pieces of equipment, software, required services and running costs. Running costs now include £3600 rent we have to pay for our new office to accommodate Indy Live Radio and Independence Live. We are looking to crowdfund for £8000.
Our crowdfunders are run every 4 month. This one has been extended to the 22nd of October!
DON'T HATE THE MEDIA, BECOME THE MEDIA
I already subscribe monthly, but you guys all do such a great job,..love listening to the show so a further wee donation to help out!
Thanks to Kevin and his team of volunteers – keep up the good work for the cause.
Your work is crucial. Kee it up
Hope this helps you keep up the good work!
Keep up the good work all