---
The Daytime Talk Show
Interviews, Politics, Social Comment, Music
Scheduled on
| | | | |
| --- | --- | --- | --- |
| | | | |
| Friday | 11:00 am | | 1:00 pm |
| Saturday | 7:00 pm | | 9:00 pm |
The Daytime Show
Interviews, Music, Chat..... politics, social comment, you name it, we do it.
The Daytime Shows are broadcast live on Mondays and Friday from 11.30am -1.30pm and are repeated the following evening. Our presenters are Kevin, Val, and Marlene (aka WeegieFifer).
On Wednesdays, we have the Daytime Talk Show Catchup where we re-broadcast some of our recent interviews.
Recently we have  talked to politicians, climate emergency activists, singers, independence campaigners, economists, authors, journalists.... and more.    
Just now the Monday and Friday programmes are broadcast live from Marlene's back bedroom. She wrestles with remote broadcasting software at the same time talking to Val live via Skype, and brings in various people to interview and also remember to set up a playlist of music!
Val and Marlene are in the midst of a series of interviews called "Coronavirus Impacts" where they talk to Scottish politicians, journalists, business people and social activists about what they think will be the way forward for Scotland as we emerge from this lockdown.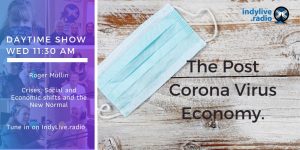 From 1st May onwards, one of our shows each week  will be a CatchUp edition where you can listen again to some of our recent interviews for example with George Kerevan, Roger Mullin, Dr Philippa Whitford, Lesley Riddoch and Alyn Smith. While the country is in lockdown and we can't get into our studio, we will sometimes shorten a programme. We call that our Daytime Show Lockdown Edition!
---
Read more
---
The Daytime Talk Show crew
---
Co-Presenter of the Daytime Shows on Mon, Wed & Friday mornings. Marlene and Val talk with their guests about current news topics, about Scottish culture and the momentum it adds to the Independence Movement, and – of course – about the political issues of the day. Marlene says: Watch the wee video below. It tells […]
Valerie and Marlene run "The Daytime Show".
---