---
No more income tax, council tax, VAT…
Written by WeegieFifer on 3 February 2021
Imagine ….
… that income tax, council tax, VAT, National Insurance, corporation tax, inheritance tax and more are abolished. And instead of benefits like Universal Credit and tax credits, every Scot, adults and children, received a basic income of £10,000 and some – like pensioners or people unable to work – got a top-up as well.
Utopian nonsense? Pie in the Sky?
Graeme McCormick thinks not and he's worked out how to do it. some months back we invited Graeme on to the Daytime Show to about his plan for a new taxation system based on land. Land after all can't be hidden away in tax havens or family trust funds. You can listen to our interview him here.
Since then he has written a book about his proposals and visited groups around Scotland talking about it.
Listen in to Grassroots Oban meeting from December. Graeme speaks for about 30 mins presenting the basics of proposals, and then answers questions from the audience.
Some of the questions that the Oban Group asked Graeme
If we wanted to stay ing EU, there are VAT requirements, so does applying AGGFR this mean that we couldn't rejoin EU.
Property valuations vary across Scotland won't that work against AGGR
What does private forestry come under?
Is the Land Registry complete?
Is there an argument for not letting land be owned by absentee landlords?
How much would Donald Trump have to pay under this system?
Do any other countries use this system?
Might this impact particularly on older people, especially if living alone?
We need to look at this in terms of who benefits and take on the culture of this new way of thinking about the land.
Might we become a tax haven if we applied this?
How does this impact on local authorities?
Would it be possible to apply it gradually?
What do we do with he unproductive land?
What about rented properties which are maintained very differently?
And won't size & quality of new build properties be affected so as to minimise the rent they will attract?
If you want to find out more…
…. it's all set down in Graeme's book. Click on the image ….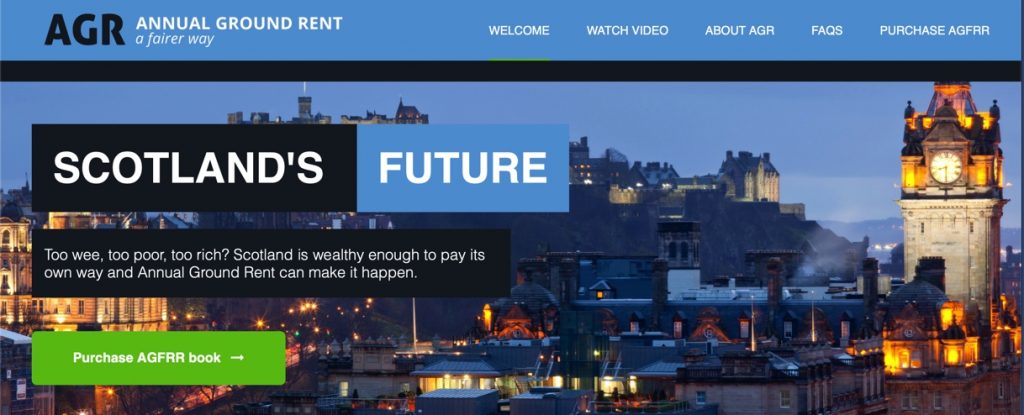 …
This is the first part of a two-part event….
In the second part Graeme is joined by Kate Forbes, Scottish Finance Minister. More info on Grassroots Oban Website.
---