---
---
Marlene Halliday shows
---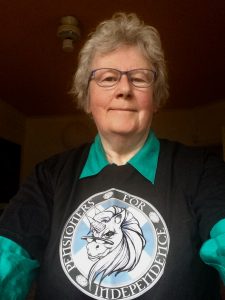 Co-Presenter of the Daytime Shows on Mon, Wed & Friday mornings.
Marlene and Val talk with their guests about current news topics, about Scottish culture and the momentum it adds to the Independence Movement, and – of course – about the political issues of the day.
Marlene says: Watch the wee video below. It tells you a wee bit about the Daytime Show which I present, along with my co-presenter Val Gauld. We usually have two guests with us on each show. Well, I say with us, with us but at the moment that's by a Zoom video call at the moment when we are not in the studio due to the corona virus restrictions.
I also look after the Pensioner for Independence Podcasts. I'm in the P4Indy Greater Glasgow group. I know hard to imagine I'm a  pensioner isn't it. And during the corona virus lockdown I started writing a weekly podcast called Corona Diaries.
---