---
Independence Live 2020 Crowdfunder
Independence Live & IndyLive Radio Mar 2020 Crowdfunder
NEWS YOU DONT HEAR
NEW VOICES FOR A NEW SCOTLAND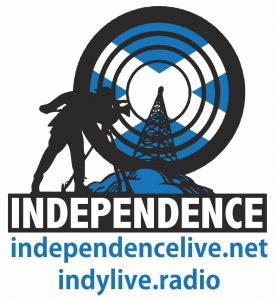 SPECIAL MESSAGE 20/03/2020
In these unprecedented times the threat of the corona virus is not only affecting the actual lives of people but it is having a huge impact on the global economy and jobs.
Independence Live & IndyLive Radio are no different with some of our activists in self-isolation and some economically suffering.
IndyLive are on a shoogly peg and a couple of weeks away from running out of money and probable endof IndyLive as you know it. Normally we would be around 40-50% of the crowdfunder goal that would allow us to pay our rent as well as other out goings. We are currently at 9%.
Thank you for all the donations so far if you like what we do and can help promote our crowdfunder or afford to give another little donation it would as always be greatly appreciated.
Thanks
Kevin Gibney co-founder Independence Live & IndyLive Radio.
Peace, Love & Scottish independence.
Be safe.
ABOUT
Independence Live has done 1000s of livestreams since 2013. We cover Indy, political, social, cultural and international events. In addition we also setup up and run our own events like Military Veterans for Independence on March 28th 2020, Larkhall.
https://independencelive.net
IndyLive Radio is a new indy platform since 2019. Politics, news, chat & music.
We have iOS & Android Apps available via website. You can also listen to our station via Alexa – first activate the Alexa Skill – if you have problems with "Alexa play IndyLive Radio" try "Alexa open IndyLive Radio".
https://indylive.radio
WHAT WE NEED
Crowdfunders help support our only fulltime member of Independence Live & IndyLive Radio. Sometimes we crowdfund a little more to purchase various bits and pieces of equipment, software, required services and running costs. Running costs now include £3600 rent we have to pay for our new office to accommodate Indy Live Radio and Independence Live. We are looking to crowdfund for £8000.
Our crowdfunders are run about every 4 month when we run out of money. 
DON'T HATE THE MEDIA, BECOME THE MEDIA
#IndyLiveMedia work with all Yes groups and other new media. We are always looking for people to get involved and #BeTheMedia with us… that includes you 🙂
The recent diversity of programming on the radio channel is excellent.