---
IndyLive 2020 Crowdfunder
IndyLive.Radio / IndependenceLive.Net – Our 2020 Crowdfunder
NEW VOICES FOR A NEW SCOTLAND
Thanks to you our 2020 Crowdfunder has met its £8,000 target. Thank you all for keeping us LIVE! And if you want to send us a bit more before Hogmanay you'll find the donation form below 👇
IndyLive Radio is benefiting from now having a core team of volunteers who between them provide show presenters, guest researchers, audio editors, IT support, ideas, social media promotion, & also have fun. As a result we've gone from strength to strength this year producing more shows and creating more content. And because of the Covid pandemic the team has taken to recording and live broadcasting from their spare bedrooms and sittingrooms!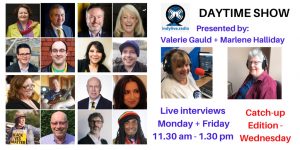 Val Gauld and Marlene Halliday have  taken on being the presenters of our Daytime Show and they've interviewed over a hundred guests via Zoom  JamesE is live broadcasting his great JamesE Music Show every week. And DoctorDave continues to build up followers for his own music show. We've scheduled in airtime for lots of podcasters including IndyPram, Pensioners for Independence, and the Locker Room to mention just three.
You can follow us on Facebook and Twitter And if you  want to catchup with us at a time that suits you, we're now providing:
Independence.On.Demand
on Podbean, Soundcloud, & YouTube
And that's not all ……
…. our twin broadcaster – Independence Live – has done more livestreams than before lockdown. Thank you Kevin Gibney, co-founder of IndyLivefor all you do!
Crowdfunders help support our only full-time member of the Independence Live & IndyLive Radio team. It also covers equipment, software, broadcasting services and running costs. We are looking to crowdfund for £8000.
#BeTheMedia
Keep it going – We're going to need you in 2021 and beyond!
For everything you do to support indy