---
Independence Live 2020 Crowdfunder
Independence Live & IndyLive Radio Mar 2020 Crowdfunder
NEWS YOU DONT HEAR
NEW VOICES FOR A NEW SCOTLAND
CROWDFUNDER – SUCCESSFUL! THANK YOU ALL FOR KEEPING US LIVE!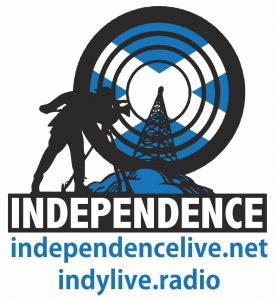 In the time of lockdown Independence Live have done more livestreams than before lockdown; setup and produced our own online shows; created training videos to get indy groups to produce their own online shows using Zoom and setup a WHATS ON GUIDE for viewers that can be updated by ourselves and other livestreaming groups and individuals.
IndyLive Radio goes from strength to strength producing more shows and creating more content with some of that coming from Independence Live online shows for radio output as well as others.
Regards
Kevin Gibney
co-founder Independence Live & IndyLive Radio
ABOUT IndyLive Media
Independence Live has done 1000s of livestreams since 2013.
FOLLOW US:
https://independencelive.net
https://youtube.com/IndependenceLive
https://livestream.com/IndependenceLive
https://twitter.com/IndyLiveStream
https://pscp.tv/IndyLiveStream
https://facebook.com/IndyLiveStream
https://twitch.tv/IndyLive
https://instagram.com/independencelive
https://linkedin.com/company/IndependenceLive
https://discord.gg/YyErKBe
IndyLive Radio is a new indy platform since 2019.
FOLLOW US:
https://indylive.radio
https://twitter.com/IndyLiveRadio
Also available on iOS, Android and Alexa.
WHAT WE NEED
Crowdfunders help support our only fulltime member of Independence Live & IndyLive Radio. Sometimes we crowdfund a little more to purchase various bits and pieces of equipment, software, required services and running costs. Running costs now include £3600 rent we have to pay for our new office to accommodate Indy Live Radio and Independence Live. We are looking to crowdfund for £8000.
#BeTheMedia
For everything you do to support indy