---
Changing Minds – Moving Forward
Written by WeegieFifer on 15 March 2021
We have a new series! It's called "Changing Minds – Moving Forward". It goes out on Wednesdays from 11am – 1pm. And it's repeated on Thursdays from 5-7pm.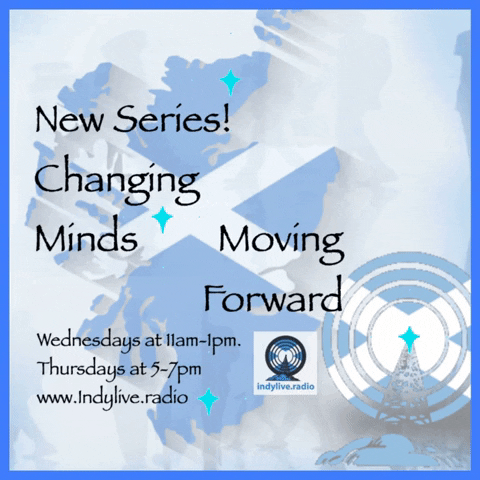 Here we are in spring of 2021, and there have been almost two dozen polls showing majority support for Scottish Independence. And here in IndyLive Radio team we've noticed a shift in the kinds of topics that Yes Groups are now discussing.
When we win the next Independence referendum it will be the end of one campaign. But it will also be the beginning of another – and we're beginning to ask ourselves questions for which we will need answers.
We are, of course, still talking about what we need to do reach independence. And there is still much to do. But increasingly we are also talking about the kind of independent Scotland that we want to build. We've beginning to explore a vision for our nation.
We're asking ourselves questions like these:
How do we want to shape our Scottish Social Security system?
Would a basic income for all be possible or desirable?
Land reform will be possible but what kind of land reform?
Could we apply the values of well-being economics to our economy?
How do we make our society fairer?
What about our media? what kind of media landscape do we want for Scotland?
We'll be free to fund our education & health systems without the heavy hand of a post-Brexit UK Gov. What changes do we want to make?
Could our taxation system be radically redesigned? and more able to stop tax avoidance?
How will we operate a smart Border with our neighbours?
What kind of banking system regulation do we want?
How might we best support our artists, poets and writers? and our scientists and engineers?
We'll be exploring questions like these – and no doubt more – in Changing Minds – Moving Forwards. Sometimes we'll broadcast an event run by one of the Yes Movement groups. Sometimes we'll put together a set of interviews on a theme.
Our first programme in the series featured a conversation between former BBC journalist Ken Macdonald and the members of Yes Skye & Lochalsh on the mainstream media landscape we have at present – and the kind of media landscape we want for an independent Scotland.
Last week we featured the Scottish Green Party's vision for Scotland after independence with an event run by Yes Dunbar with Laura Moodie and an interview with Lorna Slater. Laura Moodie is a candidate in South of Scotland and Lorna Slater, co-leader with Patrick Harvie, is standing in Lothian.
This week the theme was the Power of Music in bringing about social and political change.
Future editions are planned looking at drugs policy, well-being economics, pensions, Scotland's place in the world. There's no shortage of things to talk about!
Click on the image to find past edition of the programme:
---