---
Extinction Rebellion Scotland
Written by WeegieFifer on 4th April 2020
In February we broadcast the final part of our Climate Change Interviews. This featured Justin Kenrick and Eva Schonveld both of whom were involved in setting up Extinction Rebellion (XR) Scotland. Though as you'll hear in the interview they are involved in a great deal of other activities. Their drive through from Edinburgh, on one of the wettest mornings so far this year, took longer than expected so our interview was curtailed. While we were waiting for them to arrive Val and I were dealing with our own climate emergency – a leak coming through the ceiling – making sure that the equipment and ourselves weren't its way.
We covered a lot of ground including and there are three tracks. Here is a summary of what we talked about:
Track 1:
We can't carry on running the planet as do. It's destroying our own and other species habits. We've got to crack this or we're through. The powerful won't do it. Too many short-term vested interests pushing back. We need to be out there on the streets.
Engaging is necessary. It also helps us develop positive mental states from that engagement. This is not a displacement activity, paradoxically it's by letting ourselves acknowledge how bad things are that action and positivity can emerge.
governments probably won't be able to take the action that is now needed. Somehow we need a global citizens' assembly to take decisions.
it was only after XR blocked Edinburgh's North Bridge that things started happening at Holyrood. Since then Scottish Government have declared a climate emergency and plans have been made for a Citizens' Assembly on Climate. Of course that wasn't only because of the XR action but it did seem to galvanise people.
symbolism in direct action is all important such as digging up the lawn at Trinity College Cambridge this week.
XR involvement doesn't mean getting arrested although some people have been. Just find your local group and go along. There is lots to do.
we also talked about Justin's involvement with the Forest Peoples Land Project, a human rights organisation working with forest peoples across the globe to secure their rights to their lands and their livelihoods. Justin talked about his experience of living in Congo rainforest for over a year and seeing how people everywhere could live differently.
Track 2:
from land reform in Africa we turned to land reform in Scotland. People are excluded from their land in Kenya. We are too here in Scotland.
How much is land reform and the restoration of the commons, community ownership and resilience at the core of the push required to rejuvenate democracy, and restore social, economic and ecological well being – whether in Europe, Africa or elsewhere?
How much more can be achieved if we enable the re-emergence of the commons in the Global North to connect with, support, and be supported by, those sustaining the commons in the Global South?
I asked what is meant by 'the commons'…. in Kenya that might be grazing rights, water. Here it could be those things too but it is also libraries, museums, parks, rights of way. Forest peoples have a very deeply held and meaningful relationship with their land. Here in Scotland we have retained some of that relationship but we've also lost a lot of it. Perhaps not surprising when so much f our land is owned by so few people, a lot of them not themselves Scots.
returning to XR we asked if being labelled as 'extremist' has had any effect on their support.
why do they think that awareness and support for climate action has taken off the way it has now? Is that reminiscent of similar direct actions in the past Vietnam? anti-Apartheid? Paris 1968?
Justin draws a distinction between those actions and the Climate Rebellion. He thinks there is a shift now and people are saying to governments "If you don't do it, we will."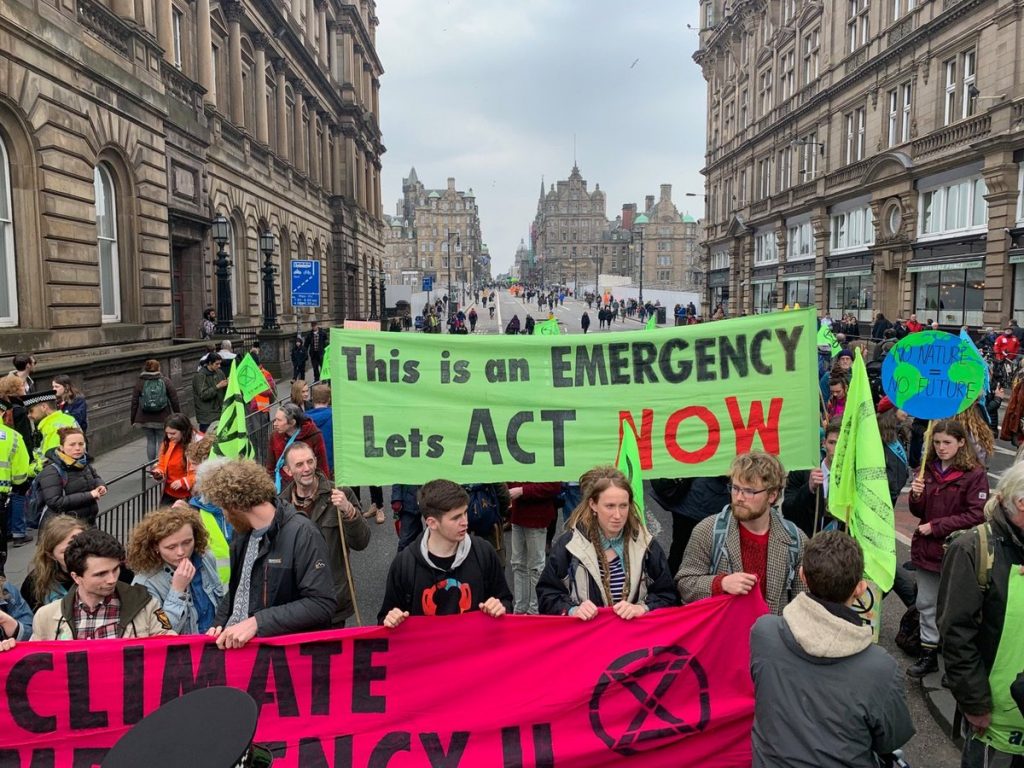 Part 3:
how do we make better decisions together?
involving ordinary people in political decision-making much more than our system does at the moment
deep disagreements need to be thrashed out and that will take more empathy and listening
yes there is an ecological emergency but the solutions to that need to be solutions that bring community justice as well
people rise to responsibility, life gets more chaotic but it works better for everyone
---